The Client is an industry superior in implementing an entire range of rehabilitation, health, safety, and injury management services. The Client is also associated with coaches and businesses to recognize services that will be best equipped for gaining timely, cost-effective, and enduring results for Fitness enthusiasts. Being a Fitness App Development Company we took the responsibility and delivered as per his satisfaction.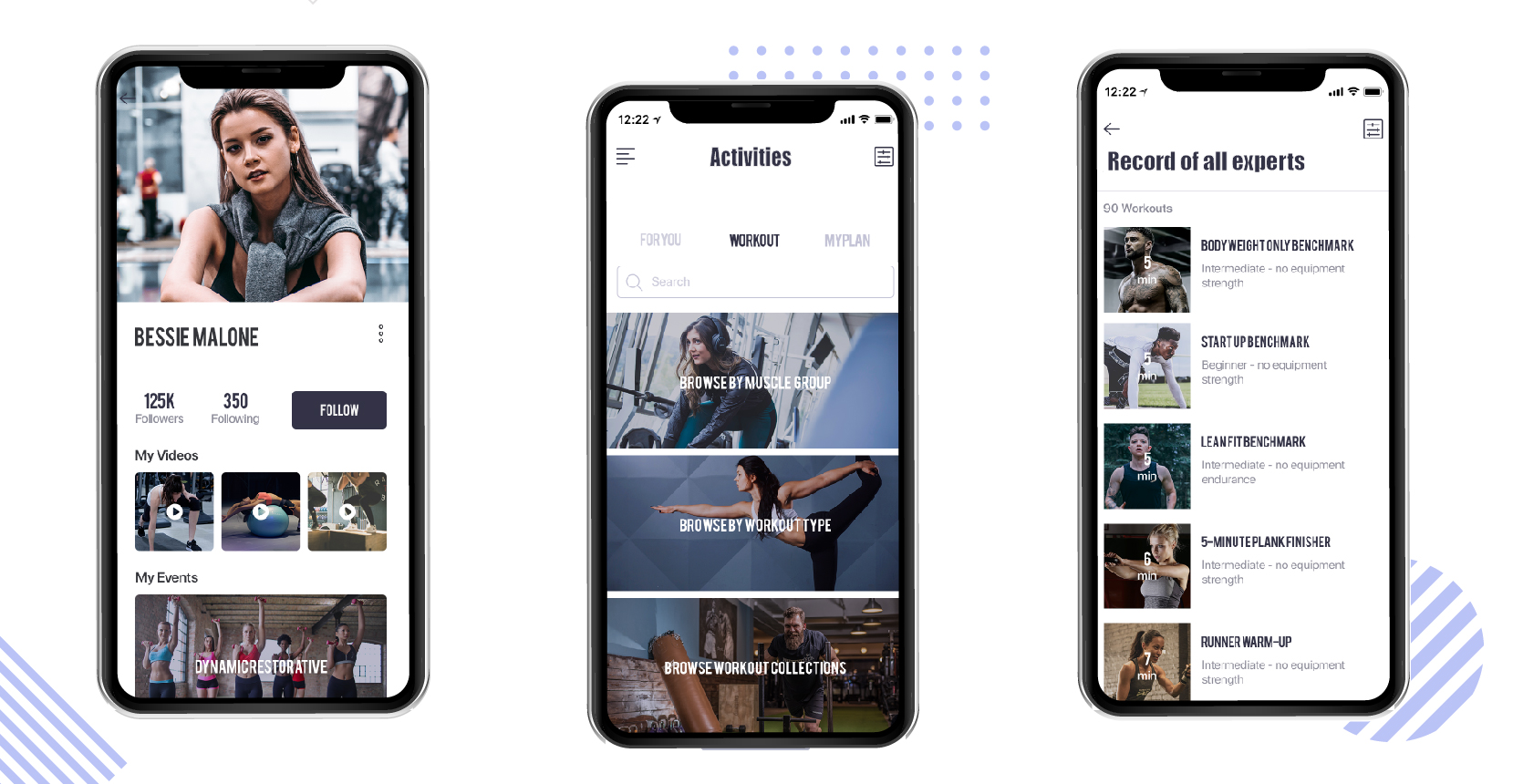 Project Requirements

The Client was in need of developing a centralized system to transform their manual practices into the digital solutions to handle exercise, injury, and fitness details of Fitness enthusiasts.
Initially, there were no parameters at the origination of the project, hence our goals were to:
Build a technical specification

Develop an MVP to a compact deadline

Later strengthen the MVP into a full-fledged product

Unite the application into a subsisting management system
We framed the technical specification and stipulated these features for the application:
Personal profiles

Activities

Record of all experts with explanations

Details about trainers

Effective scheduling

Class bookings and cancellations

Payment system for classes
To make sure we hand over the MVP on time. The utilized cross-platform framework legitimate us to deliver apps for both iOS and Android almost concurrently and nearly bisected the development time.

Challenges

Our proficient Fitness App Development Company team members and designers conquer the following challenges during the app development phase.
Our client had never experienced a mobile app development before, and they had no identification at the beginning of the project. Moreover, as they already had a website with the sufficient features we required to execute, developing the technical specification wasn't that rigid.

As we had only two months of the time period to build a mobile app that would work for all of our client's fitness centers, hence this was our important challenge to implement.

Our client desire to offer an experience in a mobile app equivalent to that of the website, but few elements of the interface seems to be of having a complex functionality.

How we achieved?

Codegait Labs team imparted the desired solution. Have a look at a few highlights:
Initiated with a technical specification
To be qualified to plan the development process and offer our client with a brief estimate, we required to create a technical specification. As a full-cycle development company, we anticipated a business analyst who can:
Extricate knowledge and business presumptions from the client during an interview.

Develop wireframes to present how the user experience would look like.

Create a technical specification with a detailed description of the chief features, technologies, testing, and acceptance.
Created an MVP
As we originated the technical specification with the client, we resolute the features for the app. To approach the deadline, we produced a plan for an MVP and attached the prevailing features to our backlog.

Discovering the main features ensure us to focus and plan our time so we could meet the deadline and also enough capable to meet the business goals.

After inaugurating the technical specification, we initiated the development process and expanded our team.
Designer enhanced the interface
To avoid integrating many features, we included a designer, who restructured the personal profiles and rationalized them. We got void of the pop-up, which accommodated too much functionality, and enhanced the UX so that a customer has rapid access to the most important features.

Result

The client was exceptionally delighted with this Mobile application, which has modified the way of fitness enthusiasts and experts from all over the world. Using this app, you can browse across fitness and nutrition articles, aspire guidance from experts and peeps and check out marvelous transformation stories.
You can track your progress on the fitness journey by Keeping tabs on the below things.
Daily Steps

Water Intake

Workout Volume

Weight & Body Measurements
To take your journey to the next level, enroll with the certified coaches for the personalized guidance and workout live with the Experts at home. You can have the latest recipe, articles, and transformations that fit your macros and can accomplish a customized diet and workout plan for free.
You can also test your limits by participating in community new fitness challenges every week which helps you in showing off your skills and win rewards.
Highlighted free fitness tool includes:
BMR Calculator

Diet Tool

Training Tool

Macro Calculator

Body Fat Calculator

Technology/ Resources used

These are the technologies we utilized in the project:
Xcode

Android Studio

PHP (Laravel Framework)

Google APIs

HTML 5

MySQL Database
We are following the phase to phase upgrades with enhanced features. This pre-planned approach is properly aligned to these selected technical stacks.

What's new we are targeting?

Well, the enhanced version we are executing currently are;
VR experience to make it more interactive.

Gamification for some important sections

Third-party webhooks to connect with different platforms.

Adaptation for Wearable devices
We pursue to work on this product, uniting new features, and reinforcing the application. Being a leading Fitness App Development Company we are planning to append even more value for users, by offering suggestions on advanced workouts and nutrition.